Annual Black & White Game
The Black team challenges the White team to a golfing match.
10:52 Tuesday July 5th, 2016 @ Pine View Golf Course
BLACK WINS 2016 !!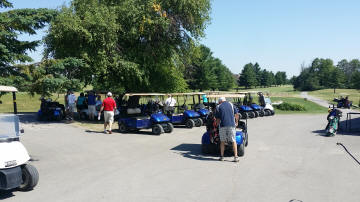 Players from the Black team vs. Players from the White team
Group 1
10:52
Group 2
11:00
Group 3
11:08
Black
White
Black
White
Black
White
Vince B
Pierre B
Byron B
Rudy S
Bill L
Sandy C
Joe C
Phil P
Frank S
Bill D
Nathan C
Dave M
9
2
11
7
17
11
Group 4
11:16
Group 5
11:24
Group 6
11:32
Black
White
Black
White
Black
White
Michel L
Christian F
Greg R
Mike P
Dan H
Damien
Warren D
Al B
Tom N
Ian S
Dave N
22
11
9
18
16
14

Group 7
11:40
Black
White
Plonia D
Marg M
Sue R
2
8

| | | |
| --- | --- | --- |
| Black Captain | Commissioner | White Captain |
| Vince B | Ron L | Ian S |
This year, the steaks came from

2 Man Scramble
Definition: A 2-Man Scramble is a competition format that is exactly what it sounds like: a scramble in which the teams consist of two players each. After each shot, the best of the two shots is selected and both players play from that spot, until the ball is holed. One twosome score is recorded.
Ready Golf
Match Play Guidelines and Terminology

Match play is a game played by holes.

A hole is won by the twosome, which holes its ball in the fewer strokes.

One point is awarded for each hole won.

Each twosome will count the number of holes won toward the team total.

Players can move the ball one club length no closer to the hole from the original position to obtain a preferred lie (not on the green).

In moving one club length, ball must stay in the same condition.
Example: Ball in the rough, must stay in rough.

Each Hole Won @ 1 point
Longest Drive (2, 10, 15) @ 1 point
Closest to the Hole (3, 12, 16) @ 2 points
Any Birdie @ 2 point
Any Eagle @ 6 points
Any Albatross @ 20 points
Any Hole-In-One @ 20 points
A subtle combination of supposed handicaps and/or beverages was used to determine the pairings for the Annual Black & White Game